Paesano's Restaurant Party & Group Menus - Lunch & Dinner
Download Paesano's Party/Group Pre-Order Menu Options Here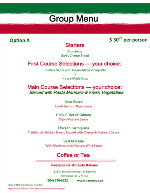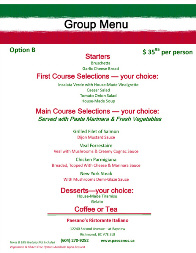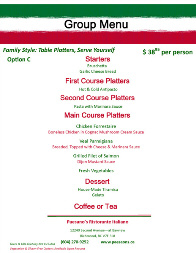 Italian food is arguably one of the world's most revered cuisines, reaching far beyond the borders of Italy. While different regions of the country have distinct culinary traditions, the cooking style as a whole is known for its roasted vegetables, antipastos, pastas, gelato and other classic desserts. Entertaining with an Italian menu is as simple or as complex a restaurant experience as you desire, but either way, it's going to be delicious. We propose a large range of traditional Italian dishes at Paesano's Italian Restaurant, and are always happy to discuss your individual party or group menu requirements. Some ideas to get your mouth watering:
Speciality Breads

Bruschetta is a classic Italian appetizer consisting of sliced bread topped with a few simple yet tasty ingredients, such as melted mozzarella or our Della Casa with chicken, onions, mushroom and cheese, and a drizzle of fine olive oil with mediterranean herbs.
Antipasto Platter
The antipasto platter is another traditional Italian appetizer with an assortment of hot and cold foods, consisting of meats, roasted, grilled or marinated vegetables, olives and cheeses. This is ideal for sharing.
Appetizers
Paesano's Italian Restaurant in Richmond BC prides itself on a range of tasty appetizers, Italian themed but occasionally displaying a west coast twist! From succulent Eggplant and Zucchini Parmigiana, through Artichoke Hearts, Calamari with choice of sauce, to home made Italian Meatballs, Crab Cakes, Italian Sausage or for seafood lovers, Prawns Napoli or Prawn & Scallop Pernod.
Zuppas
What could be better to warm you on a cold day? Rich Minestrone or French Onion Gratin will hit the spot!
Insalatas
Choose from one of seven speciality salads, Caprese, Spinach, Salmon, Italian, Tomato and Onion, Caesar or Warm Shrimp and Scallop. The ideal light way to start your enjoyable meal at Paesano's Italian Restaurant.
Speciality Pasta and Entrees
Our fresh pastas have something to delight and satisfy every taste, from rich tomato sauces, smooth cream and cheese or even a curry cream for the more adventurous, Paesano's make fresh sauces every day to delight and satisfy the appetite. Be certain to try our Fettuccine Alfredo, Angel Hair Paradiso or Salmone, Spaghetti Sicilian, Marinara or Bolognese, Linguine Vongole, Putanesca or Carbonara. For a real treat we have Butternut Squash Ravioli or Lobster Tail Ravioli, and be sure to remember our home made Lasagna, Manicotti or Veal Canelloni, topped with freshly grated parmesan and black pepper to taste. Last but certainly not least is our house speciality Lamb Shank Ossobucco, served ragu style and cooked perfectly to melt in your mouth.
Desserts
No Italian meal is complete without a taste of dessert to delight the palate, roasted stuffed peaches drizzled with brown sugar syrup, our house Tiramisu with a hint of coffee or by request our fresh fruit Zabaglione with Marsala wine. Remember too that perennial favourite, our decadent Gelatos....
Enjoy life, enjoy fine cuisine, company and wines at Paesano's Restaurant in Richmond BC. The great choice for your next Party or Group event, be sure to book in advance at 604-270-9252.